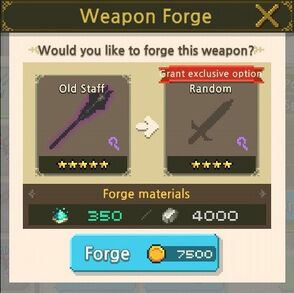 Soulbound Weapons can be acquired by forging Old Weapons, which can be acquired from volcano 4-24 (hard), clearing reward on stage 18 of ancient dungeon or clearing the world boss.
To forge, you need different materials and amounts of materials (crystal sword fragments, iron and gold.) depending on the level of the weapon.
For 4-star weapon you need 350 crystal powder, 4000 iron and 7500 gold;
For 5-star weapon you need 330 crystal shards, 8000 iron and 15000 gold;
For 6-star weapon you need 270 crystals, 16000 iron and 30000 gold.
When an old weapon is forged into a soulbound weapon, it becomes a random one of the same class (Old hammer becomes a paladin weapon, etc.). The newly forged weapon will have 2 random upgrade stats (upgrade stats are Attack, Defense, or Function), and the upgrade stats are retained if and when the weapon is forged to levels 5* and 6*.
A 4* soulbound weapon will automatically get a passive ability, which improves once the weapon is forged to a 6*.
Soulbound Weapon Listing
Edit
Here is the list of the current available Soulbound Weapons and their respective Heroes.
Hero
4☆
5☆
6☆
Bonus

6* Passive Ability:

(Ultimate Holy Sword) Damage +100%, Armor penetration +100%, Critical chance +25%, HP +10% for 5 seconds

Rochefort

6* Passive Ability:

(When Counter Attacking) Casts A Shield Witch Absorbs Damage Amount Equal To 200% Of Armor, Critical Hit Chance Increases By 20%, Deals Additional Physical Damage Equal To 100% Of Attack Power

6* Passive Ability:

(Upon activation of passive) Immune to physical damage +8 times, HP recover 2% every second

6* Passive Ability:

(30% chance when block is used) Next skill damage +90%, auto attacks are activated as chain-3 block skill power for 3 seconds

6* Passive Ability:

(Ultimate Magic Sword) Damage +75%, Life steal +15%, Critical damage +30%

6* Passive Ability:

(Ultimate Wind Sword) Number of Activation +1, Number of fire +1, Critical Chance +20%

6* Passive Ability:

Chance of evasion +30% during Black Moon Slash attack, the last Black Moon Slash damage +100% and ignores the enemy's armor, everytime the hero kills enemy with Black Moon Slash gain 5% extra critical damage (Maximum 100%)

6* Passive Ability:

Reflection damage +50%, additional physical damage equal to 40% of Hero's maximum HP will be added on every 5th reflection attack (activated once 2 seconds)

6* Passive Ability:

Every 3rd basic attack, an additional attack occurs and Attack Power is increased by 150%. Also, additional basic attack damage is increased by 200%, and a dash attack occurs by 5 seconds whenever a chain-3 skill is used. This effect cannot be removed, and is immune to debuffs

B. Sworden

6* Passive Ability:

(Passive Activation) B.Sworden's Armor And Resistance Are Immidiately Increased By 100% For 5 Seconds. Every Third 'Flaming Spirit Sword' Is Also Changed To 'Black Shadow Tiger Shadow Sword' Witch Has Twice The Effect

Isabel

6* Passive Ability:

(Passive Enchanced) Isabel's Critical Chance Is Increased By 50% And Critical Damage By 75% For 5 Seconds. Additionally, She Receives A Damage Reduction Effect Of 50%

Koxinga

6* Passive Ability:

(Passive Activation) Sea Dragon Deals Additional Magical Damage Equal To 20% Of The Enemy Resistance. Upon Evading 5 Hits, Koxinga's 'Sea Dragon' Is Activ ated As 'Sword Of The Sea God'

Victoria

6* Passive Ability:

(Passive Activation) The Cooldown Of Flag To Victory Is Reduced By 0.5 Second For Each Characther's Blocks That Are Used. While Under The Flag Of Victory, Every 3rd Auto Attack Will Deal Physical Damage Equal To 450% Of The Hero's Attack Power

Lionel

6* Passive Ability:

(Passive Activation) Accuracy Increases 10% Each Time The Attack Power Increases Based On Passive. When Demonic Pillar Is Summoned Activates Sword Dance Of Darkness 3 Times Witch Gives Damage Equal To 250% Of Hero's Attack Power

Arita

6* Passive Ability:

(Passive Activation) Decreases Cooldown Of Thorn Of Pain To 1 Second. Either (Red Rosebush / Blue Rosebush) Randomly Bloomss On The Thorn Of Pain, And Respectively Deals (Physical Damage / Magical Damage) Equal To 100% Of Arita's Armor Per Hit.

Sien

6* Passive Ability:

(Passive Altered) Sien's 3-Chain Skill Is Changed To 'Bursting Spiral Slash' That Deals Physical Damage Equal To 700% Of Attack Power.

(Passive Enchanced) Sien's Passive Cooltime Is Decreased To 3.5 Seconds. If Sien Recieves A Buff, Chance Of Activating 'Bursting Spiral Slash' Becomes 100%

Borgos

6* Passive Ability:

(Passive Activation) When An Ally Uses A 3-Chain, Borgos Stacks 'Boss Monster Power' 4 Times

Bihyeongrang

6* Passive Ability:

(Passive Activation) While It Is Activated, Bihyeongrang Orders Vaisravana A Different Attack According To The Chain Number Used By Other Allies: [Ghost Slash / Ghost Cleaver / Ghost Sword Medley] Each Sword Attack Is Followed By An Additional Effect.

Shasha

6* Passive Ability:

(Passive Activation) Enemies Hit Shasha And Recieve A Heal Debuff Of 50% For 1 Second

6* Passive Ability:

(Passive Activation) Number of Lightning +1, Lightning Spark +3 (20% of Lightning damage)

6* Passive Ability:

(Passive Activation) Immune to magical damage +8 times, Received healing effect +30%

6* Passive Ability:

(Passive Activation) Additional armor reduced when chain-3 skill effect is activated, armor increases by the same amount of deceased armor, activated on both sides

6* Passive Ability:

(Passive Activation) Effect +50%, Wave Attack (Physical damage equals to the shield effect)

6* Passive Ability:

Attack speed + 40%, Flamesprout damage +150%, The last ultimate Flamesprout damage +300%, Critical chance of every Flamesprout +15%

6* Passive Ability:

(Pillar of Hell) Damage +45%, Pillar of Destruction applied, Cooltime -1

6* Passive Ability:

Deals 150% increased physical damage, when a block is used on a debuffed enemy. Chain-3 skills that are used also have their damage increased by 150% of the Hero's resistance.

6* Passive Ability:

(When counterattacking) Deals additional physical damage equal to 150% of Enemy's armor

6* Passive Ability:

(45% chance when passive effect activated) Summons Tiggar (700% physical damage, SP recovery)

6* Passive Ability:

(Using after ally's chain-3 skill) Extra Physical Damage +50%, 4 shurikens are thrown (fixed)

6* Passive Ability:

(Passive Activated) Number of Magic Arrow +3, Damage +25%, Enemies hit by arrows are stunned for a second

6* Passive Ability:

Increases both damage and critical damage of Critical Shot by 30%, Critical Shot stuns enemy for 1.5 seconds upon critical hit.

6* Passive Ability:

(Upon activated passive) Explosion damage +50% , U.W.L-7 activated after 5th explosion (physical damage equal to 400% of attack power; explosion rate 100%)

6* Passive Ability:

(Passive Activated) Chain-3 skill damage doubled, additional resistance penetration equal to 50% of the hero's attack power is applied to the next skill. Passive activation +1.

6* Passive Ability:

Lessens number of auto-attacks by two, Summons Spirit of Fox once every 3 times and a whirlwind of arrow attacks (opponent's attacked by the spirit, resistance is decreased 50%; and 300% magic damage received)

6* Passive Ability:

(Passive Activated) Enemies hit cannot move for 5 seconds, Absolute Zero Thorn will be activated, if stunned enemy is attacked 5 times, dealing 450% magic damage of Hero's attack power (once in every 2 seconds)

6* Passive Ability:

(Passive activated) Damage +70%, Armor penetration +200

6* Passive Ability:

(Passive Activated) Attack power increase +50%, Effect duration +3 seconds, Applied to all allies, chance of reactivation +20%

6* Passive Ability:

When block is used, shoots CBR-18. (Once in 10 seconds, deal physcial damage equal to 450%of hero's attack power, passive activated) when concentrated bombard hit, a shield absorbing damage equal to 80% of spyro's attack power is casted for 3 seconds, entire enemy's attack power is decreased by 20% of spyro's attack power

6* Passive Ability:

Chance of explosion +15%, STFT-3 activated after the 10th explosion (300% physical damage, chance of explosion applied)

6* Passive Ability:

(Upon activation passive) Instead of passive, throws 5 grenades that each deal physical damage equal to 250% of attack power.

6* Passive Ability:

(Chance of extra hit) Maximum reactivation +1, Second explosion chance +45%

6* Passive Ability:

When the extra hit is critical, activates reinforced RF-247 sniper bullet that gives critical damage for 3 times. No. 9's sniper bullets ignores enemy's evasion

6* Passive Ability:

1,2-chain after hero's 3-chain block will be counted as 3-chain twice, satellite attack will be developed to mega satellite attack(hit enemy's resistance deceases 75% for 5 seconds, magical damage equal to 800% of hero's attack power)

6* Passive Ability:

Number of Shock Spheres +(1-2) (40-100%, Magic), Hit rate 15%

6* Passive Ability:

(Chain-3 skill activated) Shield Effect +50%, Entire party's critical chance +20% for 5 seconds

6* Passive Ability:

(Passive Activation) Extra Cat Beam during attack for 5 seconds (Deals magic damage equal to 150% of the hero's attack power. Eliminates all buffs from enemy), Magic penetration +100% for 5 seconds.

6* Passive Ability:

(Upon attacking stunned enemy) Activates "Snow Flower," which releases 16 snow petals that deal magical damage equal to 30% of attack power upon contact. (Once every 3 seconds) Passive effect is applied to soulbound attack.

6* Passive Ability:

Revive once (Once in every 15 seconds, Invincible for 3 seconds, Attack power increased by 50%, SP +50)

6* Passive Ability:

(50% chance upon passive activation) Next skill block is changed into 'Deadly Kiss' (additional magical damage equal to 425% of attack power, entire party heals 10% of total HP)

6* Passive Ability:

(Passive Activated) Summons the Heart Queen which deals magic damage equal to 350% of hero's attack power. The enemies next skill will do 95% less damage and the enemy will have a 50% chance of being stunned.

6* Passive Ability:

(Passive Activated) Summons the Griffon which cats debuff to enemies decreasing (15% accuracy/10% critical chance/15% resistence) according to the chain number, increases the effects of debuffs by 100%

6* Passive Ability:

(Healed ally) Immune to damage +5 times, Immune to debuffs +1 time

6* Passive Ability:

(Extra effect activated) Upon receiving harmful effect, heals 10% of maximum HP, immune to damage 2 times, increases armor penetration of healed ally by 30%.

6* Passive Ability:

(Passive Activated) Activation chance +2, Recover amount +50%, Immune to stuns +5 seconds

6* Passive Ability:

(Block generated ally) +30% chance of evasion for 5 seconds, critical chance +25%

6* Passive Ability:

(When block skill is used) Summon extra construction once. Damage of ally affected by potion increases by 50% for 5 seconds in 5% chance, and damage of enemy effected by potion deceases by 50% for 5 seconds in 5% chance.

6* Passive Ability:

(Every 10 seconds, When block is used) Totem Dance Time!! (All effects +50%)

6* Passive Ability:

Shield lasts for an extra 2 seconds, effects are increased by 150% and there is a 75% chance that a chain-3 skill will be cast at an enemy in the rear. (Additional effect: reduces enemy healing by 75%)

6* Passive Ability:

(Passive Activated) Leader's HP does not fall below 1%, Leader receives entire party's damage.

Roland
Blessed Hammer
Sacred Conviction
Gleaming Radiance
Mundeok
Limitless Sword
Limitless Hidden Sword
Limitless Divine Sword
V
Cutting Machine
Micro Cutting Machine
Beam Slicer
Hector
General's Spear
Guardian's Spear
Phalanx
Athena
Champion's Axe
War Saint's Axe
Blessing of the War Goddess
Siegfried
Dragon Lance
Dark Paladin Lance
Chain Fafnir
Dullahan
Pumpkin Crusher
Wood Crusher
Heaven Crusher
Demona
Seed of Fire
Bloom of Fire
Inferno
R - 9999
Ray Wing
Star Ray
Albatross
Arona
Yellow Dragon Bow
Yellow Dragon Hidden Bow
Yellow Dragon Divine Bow
Magnus
Luxurious Bow
Spirit Dwelling Bow
Blessing of the Spirit King
Atalante
Selinus
Imiselinus
Nymphselinus
Mamba
Steel Bow
Converted Steel Bow
SNAKE K-9
Lee
Azure Purity
Azure Horizon
Cascade of Hundred Blossoms
Rahima
Nomad's Bow
Nomad's Pride
Khan's Heritage
Viola
Ghostly Whisper
Ghostly Wings
Feather of Soul
Teresa
Chastener's Gun
Calvary's Gun
Brilliant Darkness
Mandy
Daddy
Quiet Daddy
Angry Daddy
Willhelm
MonChaser
MonTracer
MonDestroy
Saiga
Eastern Cannon
Improved Eastern Cannon
Dragon Flame Cannon
Tia
UARNERI - 2
MATI - 5
VARIUS - 7
Spiny
Bullet Launcher
Bullet Exploder
BlockBuster
Dox
Gas Handgun
Light Handgun
Mystery Chaser
Lorelei
Mercenary Call
Heavy Mercenary Call
Sky Driller
AG01 - Neo
Optical Machine Gun
Optical Machine Gun
Optical Machine Gun
AG02 - Layla
Lumen Rifle
Lumen Rifle
Lumen Rifle
AG03 - Mei
Lumen Laser Cannon
Lumen Laser Cannon
Lumen Laser Cannon
Scarlet
Hunting Rifle
Nobleman's Rifle
Immediate Execution
Cano
Trainee's Microphone
Broadcasting Microphone
Grand Finale
Alice
Heart Q
Diamond K
Spade A
Mondrian
Village Totem Pole
Worldly Totem Pole
Heaven's Totem Pole
Necron
Staff of Plunder
Staff of Extortion
Pandemonium
Demeter
Sickle of Harvest
Sickle of Plenty
Ensidaone
Uriel
Vow of Judgment
Dawn of Conviction
Prater of Atonement
Benjamin
Fallen Light
Light of Creation
Heaven's Code
Lupeow
Rod
Magic Rod
Magic Temptation
Vesper
Fay of the Pond
Fay of the Lake
Naiad
Violet
Toy Wand
Doll Wand
Hortensia
Melissa
Mysterious Creature
Grown Creature
Asmo
Chai
Mystical Ladle
Dragonhead Ladle
Yellow-dragon Laddle
Dara
Biwa
Wooden Biwa
Golden Biwa
Beatrice
Little Lamp
Dreaming Lamp
Light of Paros
Orfeo
Harp
Angel's Harp
Eurydice
Aria
Lamp of Valencia
Lamp of Astrology
Mark of Starlight
Yuria
Nursing Chart
Strategy Map
NNC SYSTEM
Faust
Sorcerer's Potion
Forbidden Potion
Elixir