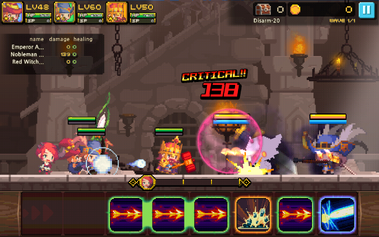 The Ancient Dungeon is unlockable after you reach the first stage of the Desert. There are several dungeons available with different rewards for clearing them, such as bread, gold, heroes etc. Each dungeon has a limited time period, which cycle to the next set of dungeons once the time is up. Special dungeons are only available for certain periods of time. For example, Holiday's Dream and Holiday's Nightmare are only available during Christmas.
List of Dungeons
Edit
Regular Dungeons
Special Dungeons
Edit
Ad blocker interference detected!
Wikia is a free-to-use site that makes money from advertising. We have a modified experience for viewers using ad blockers

Wikia is not accessible if you've made further modifications. Remove the custom ad blocker rule(s) and the page will load as expected.